Physiotherapy Treatments
---
At the Lawlor Clinic, we now provide a contemporary physiotherapy service. Physiotherapy is a holistic approach to healthcare lead by practitioners dedicated to working with people to maximize their ability to move and function throughout their life. Physiotherapist are specialists in assessing, diagnosing and treating individuals who are experiencing pain or restrictions in their daily life. Physiotherapists maintain health for people of all ages, helping patients to manage pain and prevent disease.
We care for you
---
Sean is a chartered physiotherapist and a member of the Irish Society of Chartered Physiotherapists (ISCP). Sean builds an alliance with his patients, in order to restore movement, function and resolve their pain. Sean uses hands-on manual therapy; through mobilisations, manipulations and massage to improve movement and pain, and provides specific exercises for the patient to work on in order to maintain these benefits. Sean puts great emphasis on the core of physiotherapy: which is the patients' own involvement in their care and how they can promote self-management and independence. This is guided through education, awareness, empowerment and participation in their treatment.
What physiotherapists treat:
---
Back Pain
Osteoarthritis
Sciatica
Whiplash
Hip Pain
Headaches
Post Operative Pain
Knee Meniscal or Ligaments
Ankle Ligament Sprains
Sports Injuries
Wrist Pain
Rotator Cuff Injuries
Foot Pain
Plantar Fasciitis
Golfers/Tennis Elbow
Degenerative Disc Disease (DDD)
Muscle Tears/Strains
During Fracture Healing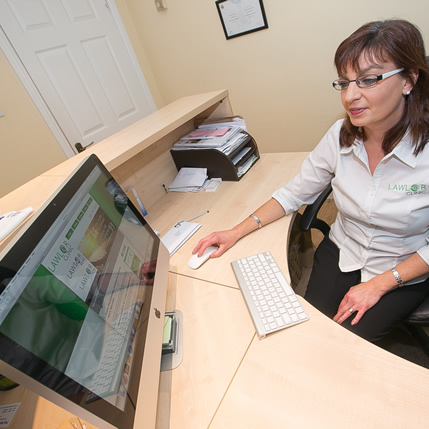 What To Do Next – Find Out How We Can Help You?
---
You can expect a high level of service at the Lawlor clinic; we offer friendly tailored advice, backed with many years of experience helping people like you get back to optimal health. Our team of professionals have a wealth of experience dealing with a wide range of injuries.
So why not make contact with us today and we'll be happy to answer all of your questions. We're waiting to take you call on: 057 867 8904 or send us a quick message here
Many of our therapies are covered by all the Major Private Health Insurers, GAA Injury Scheme, Garda Medical Aid.